Monday, September 19, 2005
QPIDS PRE-FINAL EPISODE
LUIS: ang nagkatotohanang lovestory nina JILWYN, susunod na!
preview:
Alwyn (in tears): ano eh.. dahil dito sa qpids, naging close kami ni Janus. dito lang talaga nagbago ang buhay ko. dito ko na nakilala si Jill.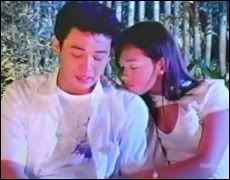 INTRO:
LUIS: kung icocompare nyo ang JILWYN nung nagsisimula pa lang ang qpids sa JILWYN ngayon.. ay! napakalaki na ng pagbabago. ang storya nila? watch this.
interview:
scene: vtr shows that Jill is coming down from the carriage and walking to make an entrance.
Jill VO: LOVE... love is like a bubble gum that sticks to your heart.
Jill: (laughs) grade four pa lang ako nun eh, sinasabi ko na un eh
scene: vtr showed the scenes of Carlo and Alwyn's entrance.
Jill: umupo si Carlo tsaka si Alwyn sa..sa table ko. hindi nila ako kinakausap kasi di nila ako type
scene: vtr showed that Carlo chose Paw to dance with him
Alwyn: (laughing) napilitan akong umupo non sa kanya (laughing still)yun...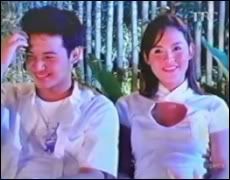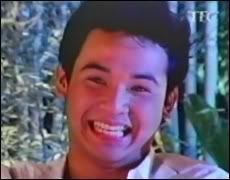 Jill: bakit feeling mo gusto ko andun ka?
scene: vtr showed that Jill chose Carlo to be her bear
Jill vo: Carlo Aquino, you're my bear.
Alwyn: di naman sa ayaw ko sa kanya pero.. uuhh.. ano.. ewan ko ba wala akong mapili.. kaya nga sabi ko.. tanggal na lang ako. *laughs* OUCH!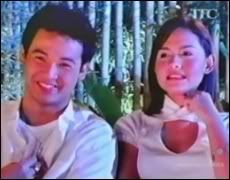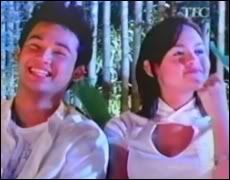 scene: MR. QPIDO is saying that they will give all the prince charmings a chance to bond with the love princesses. then shifts to the JILWYN photo session with the cayman crocodile.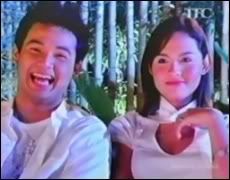 Jill: si Alwyn naman po talaga... talgang dati pa lang di na namin feel yung isa't isa. tapos ngayon, ewan ko kung bakit na-inlove sya sa akin *alwyn starts laughing* tas minsan ewan ko di ko maintindihan eh pero ok lang yun pinagbigyan ko na rin. sya naman ngayon ang naghahabol sa akin. naawa na nga ako eh pero *laughs* ayaw tumigil. joke lang
staff: Alwyn anong masasabi mo dun? ba't namumula ka?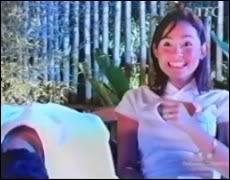 Alwyn still continues to laugh
Jill: kasi alam nya totoo yon *smiles*
staff: oo nga napapansin ko din Alwyn...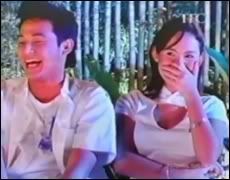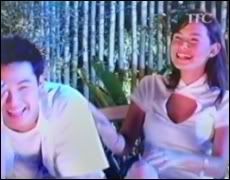 Alwyn: ewan ko basta *laughs*
scene: vtr showed when Mr. Qpido chose Alwyn to be Mr. Qpido's choice for Jill.
Mr. Qpido: prince charming Alwyn
Jill VO: ay sabi ko na nga ba!
Jill: bakit?? talgang gusto kong sumigaw na "bakit sya??"
Alwyn: mmm..
Jill: oo! *towards Alwyn* gusto ko si Carlo *smiles* eh wala, napili sya.. yun inisip ko. ay! wala na akong pag-asa mauuna na akong maa-out..maa-out na kami agad.
Alwyn: naalala ko ung sinabi... wait lang.. wait lang.. naalala ko yung sinabi mo nung pinili ako na Mr. Qpido's choice sabi mo... sabi mo *imitates Jill* "sabi ko na nga ba eh!" gumaganon ka pa.
Jill: syempre.. pakitang tao *laughs*
Alwyn: oooohhh *laughs also*
Alwyn: kaya ako nababadtrip nung mga panahong yun kasi alam ko si Carlo talaga ang gusto nya. *Jill laughs* simula nung ano, soiree pa lang... na outkast na kami... *shows vtr of him and janus* parang losers na kami nila Janus. yun na yung nararamdaman namin all the way.
scene: vtr showed the part when Jill went jet skiing with Carlo
Alwyn VO: saya! ang saya nila! ang saya!
switched to Vane and Carlo having a quality time together.
Jill VO: we both like Carlo...
switched to the scene where Jill admitted something *background music is crazy for you*
Jill VO: ...hindi lang crush. hindi naman in-love, baka in-like *smiles*
Alwyn: *imitates that same Jill scene* tinatakpan ang camera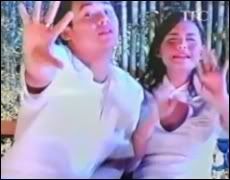 Jill: *imitating her actions on that particular scene* direk, direk wag, please wag...yun na yun? yun na yun? *imitates her actions again* wag na direk kasi nakakahiya eh naiiyak na ako... yun ba yun? *looks up and laughs!*
Alwyn: ganda nung eksena na yun *smiles*
scene: vtr shows that particular scene where Jill got up and walked away from the camera
Jill VO: direk wag please.. ayoko
Alwyn: nung panahon na yun para sa akin, walang kwenta yung ginawa kong yun eh. pero in fairness ok daw *smiles* ok daw? ewan ko *looks at Jill* ok ba sayo yun?
scene: vtr showed the scene when Alwyn was reading his letter to Jill during the bonfire night.
Alwyn vo: sa pagkakataon na to, dalawa lang ang pagpipilian mo.. si Carlo o ako. isang simpleng bagay lang ang maipagmamalaki ko. yun ay.. totoo akong tao, ako ay ako. si Alwyn ay si Alwyn.
Jill: eh kung di naman ok yun bakit nasa wallet ko pa?
Alwyn: ooh!
scene: vtr showed that Jill hugged Alwyn after giving her the letter. *the trademark Jill hug*
Jill: lima na ang mga sulat mo sa akin. lahat yun nasa wallet ko.
Alwyn:tapos yung umiyak sya.. sige kwento.. tuloy nyo pa..
Jill: aaahh! *laughs*
scene: vtr showed when Carlo and her sang crazy for you together during the bonfire night and when Carlo hugged her.
Jill: o! aminin natin na dati talaga hate natin yung isa't isa.. aminin mo yun. ayaw mo talaga sa akin.
scene: vtr showed the scene during the flores de mayo "death march loventure"
Jill: nung flores de mayo... *looks at Alwyn* medyo ok na tayo nun eh.
Alwyn: oo
Jill: para kaming magbarkada na nun. nagsisimula na.
scene: vtr showed the scene where Luis announced who will be Jill's final loveteam.
Luis: eto na Jill. ang iyong final loveteam partner ay si... ALWYN.
Alwyn: tingin namin talaga hindi magwo-work.
Jill: tapos tinanong mo pa sa akin na... "hindi ka masaya akong naka..na naging loveteam mo?" *Jill then tries to make tampo*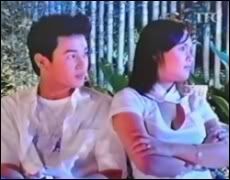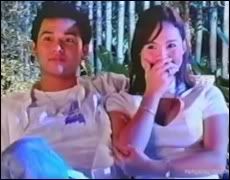 Alwyn: sinabi ko yun?
Jill: oo gumanon ka!
scene: vtr showed the bear kita date of JILWYN where Alwyn was wearing the qpids mascot.
Alwyn: actually, kahit na hindi ako gano ka in.. interesado kay Jill nun. kahit papano gusto kong mapasaya ko yung babae sa date namin.
scene: vtr showed when Jill opened the giant box and said "open me" and then her and Alwyn sang crazy for you, then when they played baseball, then when Jill kissed Alwyn on the cheek.
Alwyn VO: ay! crush mo pala ako?
Jill VO: kapal mo, kunwari ka pang hindi.
Jill: nung natapos.. tapos..natapos yung date namin *big smile and kinikilig* nag text sya sa akin. *laughs* kinikilig talaga ako.
Alwyn: ok ka na ba?
scene: vtr showed their kilig-sena as Vivian and Carlo of lover's in paris.
Jill: actually di namin talaga alam kung saan talaga nagsimula. kasi parang ON-OFF, ON-OFF parang ganun.
Alwyn: kasi yung Binondo talaga dun talaga ako nag ano e...dun talaga nagbago ang lahat eh.
scene: vtr showed their binondo loventure where alwyn asked Jill to let him carry her on his back. then shifts to the heartbreak nights where they were always belonged to the blue heart.
LUIS: Jill and Alwyn, i'm sorry but you have to go to the blue heart.
Alwyn: nung palagi kaming nasa blue heart. parang... di ko alam, di ko maintidihan yung feeling na parang ok lang pero parang *we heard Jill said "hindi"* masakit pa rin na nasa
blue heart, parang masaklap pa rin na nasa blue heart kami.
scene: vtr showed the 3rd hbn where JILWYN was announced to be the strongest loveteam and won the immunity bear (waahh! july 7 yan!)
Jill: nung nag read heart na kami...
Alwyn: dahil sa Binondo
Jill: at! immunity bear pa agad (haha! kala ko sasabihin nya "at! yun pa yung araw na naging kami na!" haha) super happy kami nun.
Jill: nung nasa bohol, nung nakasakay kami sa jeep (referring to Carlo)
scene: vtr showed the bohol loventure where her and Carlo were in the jeep talking.
Jill: iniisip ko habang nakasakay kami dun. uhm.. grabe talaga po yung pinagbago. una, super gusto ko tong guy na to (referring to Carlo) tapos *scene shifts to Alwyn, then their hugs* super hate ko yung guy na gusto ko ngayon (ngayon naman ke wafu, ay! este.. ALWYN na ang tinutukoy nya) tapos gusto, hinahanap ko sya, kamusta na kaya sya ganun.
Alwyn: nung una tinatanong ko sa sarili ko "paano nangyari to?", parang... HHAA??! *smiles*
scene: vtr showed their bull session in bohol where.. ahem! happened.. haha! aminan na!
Alwyn vo: ano ahh.. apat na bagay lang yan eh.. ah.. una, sorry. pangalawa, gusto ko malaman mo nagsisisi ako. pangatlo, salamat. yung pang apat na sasabihin ko sayo, uhm MAHAL NA KITA.
Jill vo: *laughs with kilig* eh ba't kinikilig ka?
end of interview
-what they have to say to each other.
Jill: lahat ng mga katrabaho ko dito... ang saya kasama. ang sarap kasama.
>>> a letter/note is on the floor and a qpids flag is being waved. it said something, di ko magets ung sinabi ni Cipriano except sa "sa harap ng Binondo church". then the vtr showed the scene of JILWYN running in front of the Binondo church.
everyone: aaaayyy!!!
Alwyn: *stood up* BINONDO!
Jill: dyan mo ako minahal
Alwyn: aayy.. shhh (haha! i don't know if he said the word sh*t or sshh lang haha!)
>>> then shifts to a random JILWYN scene again.
Pupi's message for Jill: siguro kay Jill. mas naging close kami dahil sa qpids. mas naging close tayo dahil sa qpids at "mare" tayo. uhm, i'm always here lang, i'm one text away.
Janus's message for Alwyn: i know guys don't usually say this to one another pero si Alwyn mahal na mahal ko yan na parang kapatid ko na.
Jill on JARLA: sobrang bait nyong dalawa sa amin, sa amin ni Cipri.
>>> vtr showed scenes of Alwyn and Janus's scenes together.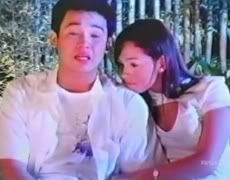 Alwyn on Janus: *in tears* dahil dito sa qpids naging close kami ni janus. Breasty mamimiss kita na makatrabaho. so yun, kahit papano, alam ko magkikita pa rin tayo pero, this, eto na yung siguro last na magkaka...magkakasama tayo sa trabaho, so yun. Ingat na lang.
>>>JILWYN to everyone<<<
Alwyn: kung sino man yung magiging ultimate loveteam
Jill: deserving
Alwyn: uhm.. you deserve it kaya ano...
Jill: magiging happy kami Alwyn: mmhhmm...*jokingly* abangan namin kayo sa labas *laughs*
Jill: *jokingly* MHYZEL *laughs* di joke lang.. THE BEST!
Alwyn: tsaka mag-iingat kayo ganyan. pagkatapos nitong kompetisyon na to uuhh sana walang makakalimot. kila direk yan, maraming salamat... uhm.. dahil sa inyo.. yun, basta! (haha! nahiya) *looks at Jill* tsaka kay Jill, ayun.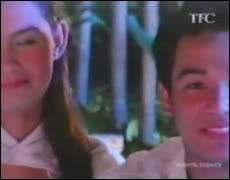 Jill: eto naman oh (haha! hiya din)
to end it all.. GROUP HUG!!!