Sunday, August 07, 2005
First Monthsary Surprises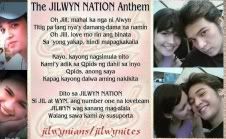 Happy JILWYN day to all of you!! Today is Jill and Alwyn's First Monthsary as a couple, and to celebrate such a special day, I came up with a few surprises. Hope you'll like it..
1. A nation isn't a nation without an anthem:

*To the tune of "Dito sa Puso ko"
Oh Jill, mahal ka nga ni Alwyn
Titig pa lang nya'y damang-dama na namin
Oh Jill, love mo rin ang binata
Sa 'yong yakap, hindi mapagkakaila

Kayo, kayong nagsimula nito
Kami'y adik sa Qpids ng dahil sa inyo
Qpids, anong saya
Kapag kayong dalwa aming nakikita

Dito sa JILWYN NATION
Si JIL at WYN, ang number one na loveteam
JILWYN wag sanang mag-alala
Walang sawa kami ay susuporta

(You can download the anthem banner by clicking the pic above.)

So JILWYNIANS/JILWYNITES, make it a habit to sing the anthem everyday, hahaha.. It's guaranteed to start your day right.
2. These you have to find out for yourselves. Just log in to the forum and... Finders keepers!!!

Credits to Rapunzel and Margz for the Ktext Pics. Credits also to Jill and Alwyn. They never seem to run out of kilig poses.

- ate ruth